Blog
Our latest news and thoughts
January 07, 2020
by Dozie Ezerioha, MD
As we move into the New Year, let's take a look at major updates for remote patient monitoring in 2020.
On January first, the new remote patient monitoring (RPM) codes from the Centers for Medicare and Medicaid Services (CMS) finally went into effect. If you're anything like me, you've been anxiously awaiting their arrival since the release of the 2020 Medicare Physician Fee Schedule (MPFS) on November 1st. In 2019, we got our first taste of the RPM codes and saw how much promise Connected Health holds for America.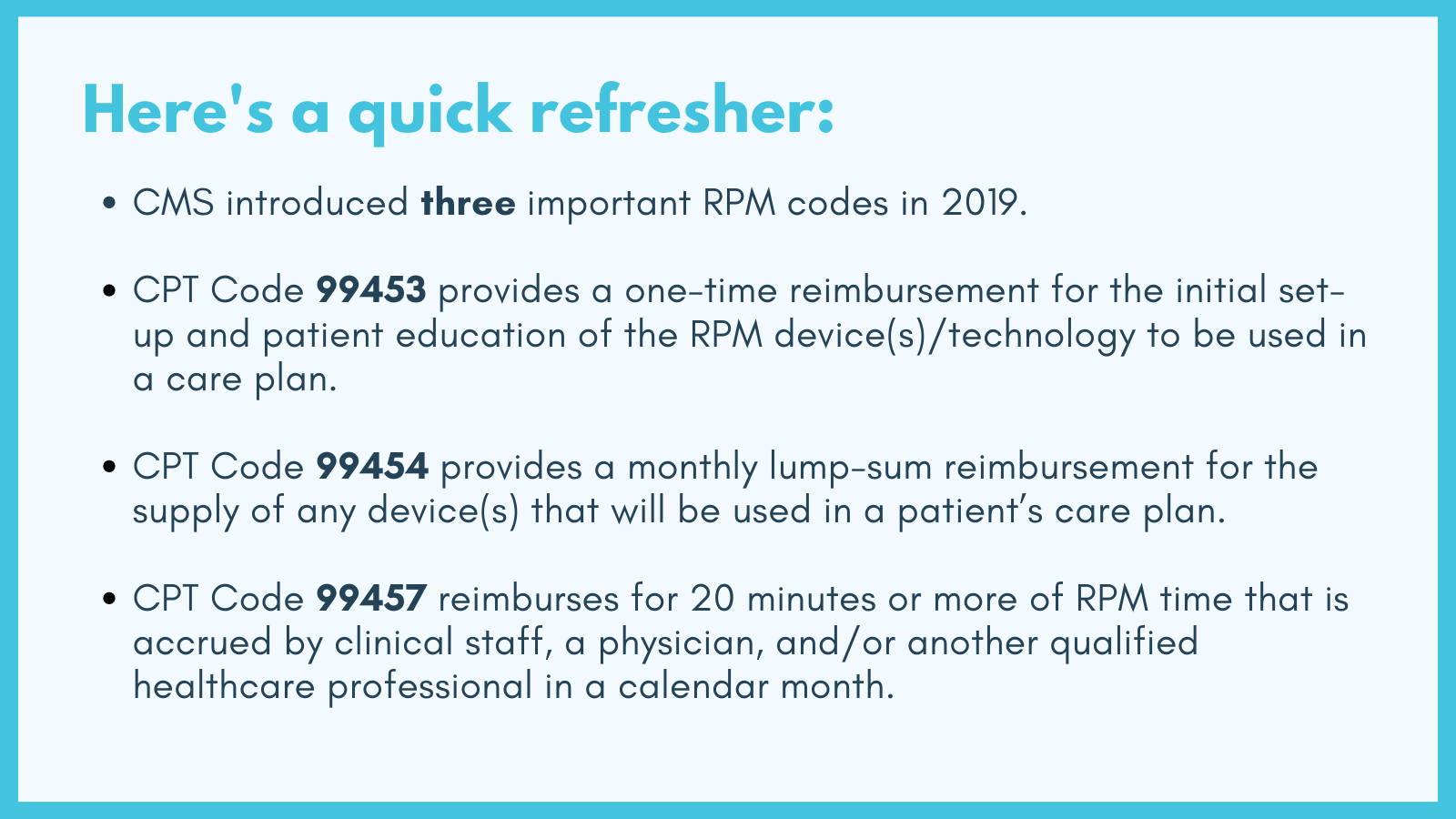 These codes sparked a significant shift in American healthcare. Patients and physicians alike have embraced change and are moving away from the archaic fee-for-service model which has often incentivized expensive, inconvenient, and (sometimes) unnecessary treatment. RPM services are part of the growth of alternative payment models and extend the opportunity for comprehensive, convenient care to thousands of our friends and neighbors. 2020 is strengthening this trend.
So, what's different about the 2020 MPFS?
There are two extremely noteworthy changes to the 2020 MPFS in terms of remote patient monitoring.
1. The creation of CPT Code 99458.
This new code allows physicians to bill for additional time spent remotely monitoring their patients. Where CPT Code 99457 reimburses for the first twenty minutes of RPM time in a calendar month, 99458 provides reimbursement for an additional 20+ minutes in the same calendar month. This is significant for physicians providing RPM services to individuals with complex conditions, allowing them to be duly compensated for their time and effort. This significance also extends to patients, as 99458 may incentivize more providers to adopt a Connected Health care model.
2. The classification of RPM as a Designated Care Management Service.
The 2020 MPFS clearly specifies that remote patient monitoring is a Designated Care Management Service. This likely sounds complicated, but the jargon boils down to the simple fact that RPM services may now be provided by clinical staff or other qualified healthcare professionals under the general supervision of the billing physician. The 2019 MPFS required that RPM services be performed under direct supervision. This means that, for the first time, clinical staff may provide RPM services in a different physical location from their billing practitioner.

Though this change may sound small, it holds huge opportunities for busy physicians and their patients who would benefit from remote monitoring services. According to Nixon Law Group, "...vendors of [RPM] may provide their customers with the option of a completely outsourced package of services, where clinical staff contracted or employed by the vendor may monitor patient data from an off-site location and escalate potential issues to be addressed by the patient's practice." The ability to contract out auxiliary staff for the monitoring of patients will benefit providers by reducing their workload and will benefit patients by expanding their opportunities to receive high quality, low-cost RPM services.
Though many problems regarding RPM were resolved through the 2020 MPFS, some questions remain unanswered. In the coming year, we hope to see clearer definitions for RPM terms such as "physiologic parameters", "medical devices", and "interactive communication". However, CMS has done an excellent job of preparing us to provide high-quality RPM services in 2020.
If one thing is clear for this new decade, it's that digital health is here to stay. Want to learn how to stay relevant by integrating Connected Health into your practice? Let us help. It's never too late to make a new resolution.

Dr. Dozie Ezerioha is the Chief Medical Informatics Officer at PatientOne. For almost a decade, he's tackled healthcare's most pressing real-world challenges by finding ways to fix the system to deliver better outcomes. Dozie's background in life sciences, engineering and medicine, and his passion for optimizing the patient healthcare experience, drives his patient-centric approach to building innovative health technology.