Blog
Our latest news and thoughts
Adoption or Extinction? 5 Steps to Making Digital Health a Reality
August 04, 2020
by Jeff Fee, CEO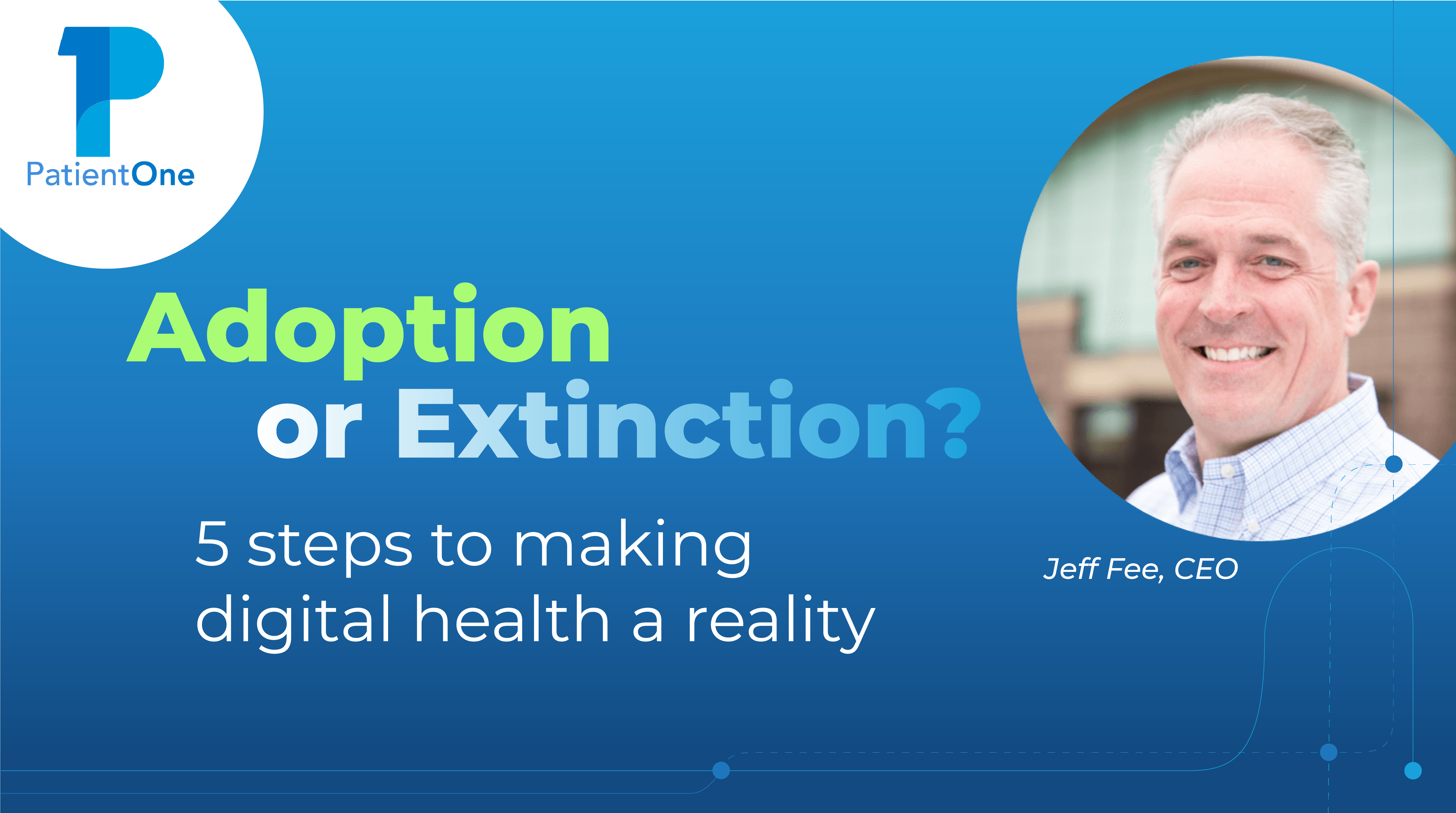 Some changes from COVID-19 are here to stay. The need for telehealth exploded when we were forced to stay at home. I'm going to assert this: many of your patients don't want to go back.
If your hospital or practice doesn't implement systems to make digital health a reality, quite frankly, you face extinction.
We all know change is hard, particularly in health care.
It takes deliberate and disciplined effort to rewire the workarounds our teams have put in place to actually get things done.
So how can you leapfrog implementation challenges and get your organization up and running with digital health tools that will increase patient satisfaction, reduce staff workload, and improve outcomes?
If you've led a team through this process, you know the most challenging part of introducing new tech is effective adoption by the necessary stakeholders – namely, staff and patients.
In the case of PatientOne, we've found a dichotomy in our time together with care managers – on the one hand, they want to be able to monitor patients more effectively so they don't fall through the cracks. On the other hand, the thought of putting in additional work to learn new software and change their process can be overwhelming.
I believe our platform has the power to streamline and simplify the patient monitoring process. With the right preparation and training, it will become a force multiplier for your care team. More patients get more access to better care, with less work from your team. Fewer patients fall through the cracks.
The five tactical steps I provide below on successful implementation of new technology is modeled on the PatientOne implementation plan. However, I'm confident the methodology will be helpful with other system innovations as well.
Step 1: Assemble a Key Team of Leaders
In order to successfully implement a new platform that significantly impacts your hospital workflow,

get

buy-in from key people at various points in the organization.

Create

a project team that consists of leadership representation in hospital administration, IT support, care management, as well as physicians

.
For a PatientOne implementation, this project team identifies important metrics that need to be tracked. They also establish clinical criteria to build monitoring protocols, create patient engagement strategies, and develop staff training agendas.
Step 2: Map Existing Organizational Workflow
In order to maximize effectiveness, design an intentional workflow that serves that purpose.
Tak

e

time to map your existing workflow

. This

will provide a crucial starting point in identifying strengths and weaknesses, including any gaps and inefficiencies you may have in your processes.
We suggest including:
- Detailed process gathering for each team in your organization
- Conducting an infrastructure review
- An analysis of various staff logistics
Step 3: Map a New, Optimized Workflow
Once you understand how things are working at an operational systems level, tweak your existing workflow or build a new one that provides solutions to the gaps and inefficiencies you've identified.
Make sure that this includes logistics for any new software platforms/tech tools you're bringing on board.

During a PatientOne implementation, we include:
- The location of workstations
- How each relevant staff member will interact with the system
- How to route coding logistics to establish a successful integration with billing
Step 4: Identify Key Staff Members
Develop a staff training protocol

. This

is a central piece in the success of adopting new processes and innovations.
Identify key staff members and provid

e

simple instructions that are easy to understand. Having the right people in the right positions will help to ensure mass adoption.
For example, during a PatientOne implementation we identify onboarding specialists. These staff members have the right skillset to overcome patient objections and help provide education on why their participation in a remote monitoring program is important.
Step 5: Create a Project Plan with Clear Steps for Implementation Support
Having a project plan in place brings everything together and allows for ease of iterative improvements as they're required.

Creat

e

a project plan that includes stakeholders, milestones, and measurable steps to help track these moving parts in a central location.
Assign a project manager to keep things flowing.
Plan check-in points for pre go-live, go-live, and post go-live

to

eliminate confusion between teams and allow any complications that may arise to be resolved quickly.
I hope these steps help provide some clarity and focus in area of new technology implementation.
If it's time to provide your organization with a simple and effective tool to close the loop on care with automated care management and remote patient monitoring, we're here to show you how PatientOne can help. Reach out to our team today to schedule a demo.