Blog
Our latest news and thoughts
August 07, 2019
by Jeff Fee, CEO
Working in the belly of the beast of the healthcare industry for over 25 years—whether it's running specialty clinics, surgery centers, hospitals or health systems—there's one common set of challenges that apply to all: how does one increase revenue, grow market share, improve patient care and the overall patient experience, all while reducing operating costs?

CMS approved three new remote patient monitoring (RPM) billing codes in November 2018 which became eligible for reimbursement in January 2019. The new RPM codes are better suited to today's technology and the workflow of modern staffing models. Industry experts are saying this is digital medicine's biggest financial incentive in history—and I agree. Oddly, very few providers are aware of these codes and missing the potential opportunity to add more than $120,000 in additional revenue annually, per physician.
Read our blog with the Medical Physician Fee Schedule changes to RPM here.
What to know about RPM codes:
RPM uses digital technology to transmit information between providers and patients without having to schedule an appointment or wait on a phone call. It keeps patients on track, reduces readmission rates and unnecessary trips to the emergency room. The codes can be used with chronic care management codes and for any patient who would benefit from RPM. Patient Consent is required.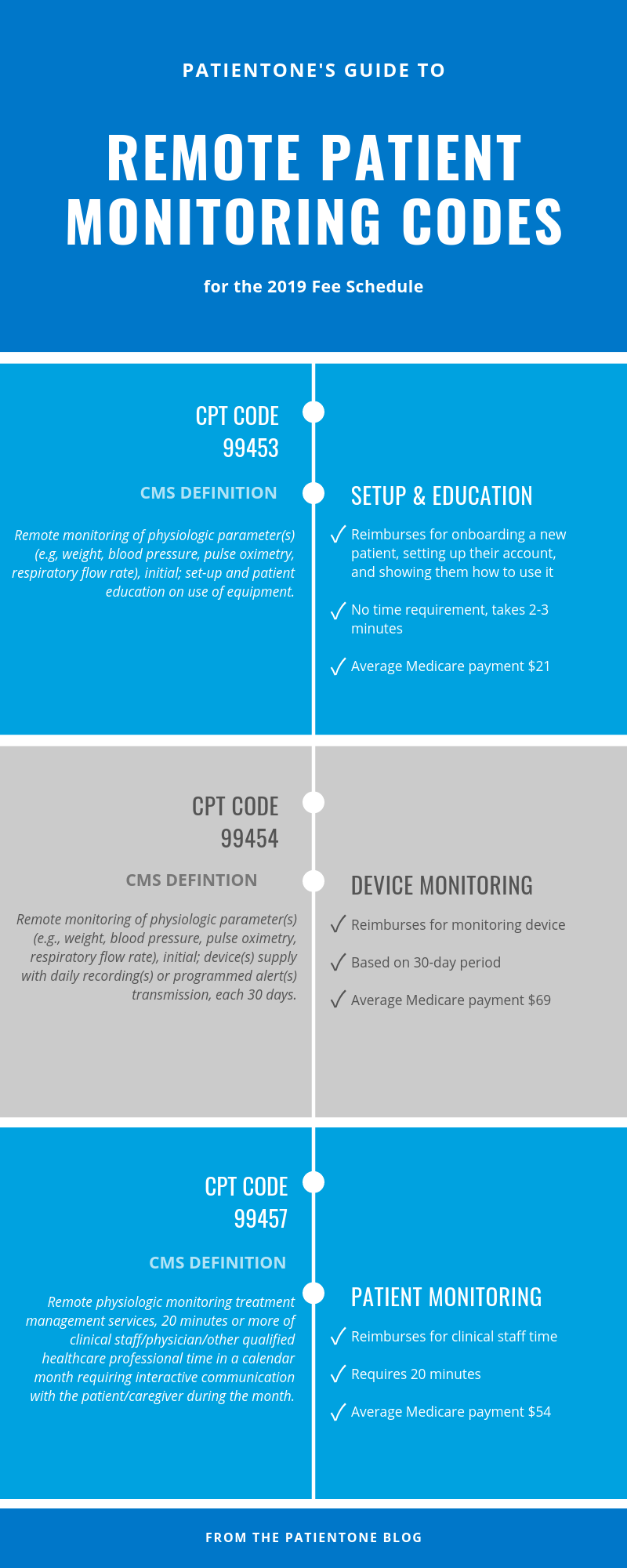 Read the full 2019 Memorandum from CMS here.


How is the time eligible for reimbursement tracked?
There aren't many systems with the capability to securely track and meet the requirements of RPM while fitting into the workflow of modern staffing models. That's where PatientOne comes in. This is what we do.
We've worked closely with industry experts and a legal team to develop a user-friendly RPM system. We are constantly improving the actual patient-facing portion of our app, looking at how effective the notifications are, how we're engaging our patients, and refining how we improve those interactions going forward. This is a tool that is constantly improving the communication between the providers and their patients.
For providers and clinical staff, PatientOne features include:
A HIPAA-compliant platform allowing staff to quickly share and view patient data and monitor their interactions
Automatic notifications to keep patients on track and to ensure they follow instructions
Direct communication with patients through the two-way messaging system
Automatic time tracking for CMS billing requirements
Easy organization of patients and procedures


For patients, PatientOne features:
Mobile app, text, or email notifications surrounding their care plan
Ability to add loved ones or caretakers to receive their care plan updates, as well
Quick set up and a user-friendly interface
Direct communication with their care team through the two-way messaging system
Educational info and videos uploaded by their care team regarding their procedure or care plan
What's new? Remote Patient Monitoring as a Service (RPMaaS™)
Read about our newest feature here.

Do private payers reimburse for the codes?
Private payers may reimburse for RPM services, but they are not required to do so. Private payers that do reimburse for RPM services may have different requirements for billing. Make sure to check with the commercial payers in your region to find out whether services are reimbursable and what requirements your practice has to meet for billing. Private payers that are using the codes are paying almost double the average Medicare payment.
Need help getting started?
Contact us today to book a free demo with our team to see how PatientOne can help you generate revenue, improve patient satisfaction, and enhance patient engagement and office efficiencies. It's what we do.
This blog was originally published on August 7, 2019 and updated on February 3, 2020.
---
---

Jeff Fee is the CEO for PatientOne. He has spent over 15 years as the chief executive of health systems. Before founding PatientOne, he spent the last ten years as the chief executive in western Montana for Providence Health and Services, Western Montana region. Working in the healthcare industry for over 25 years, Jeff is constantly looking at how to improve the communication between the providers and patients--and that's exactly what he's done at PatientOne.