Blog
Our latest news and thoughts
January 30, 2020
by Dozie Ezerioha, MD
If our previous blog post was any indication, acronyms in healthcare are here to stay. And what's more? We've created one of our own.
Introducing: RPMaaS - Remote Patient Monitoring as a Service
In 2019, Medicare introduced codes that established Remote Patient Monitoring (RPM) as part of a new model of care greatly improving the quality of health services enjoyed by millions of Americans. But, as with most new things, like Connected Health, a few modifications were needed to make it run smoothly.
When support for remote monitoring was initially announced by CMS, it called for the prescribing physician's "direct supervision" of qualified healthcare professionals (QHCPs) providing RPM services. To be reimbursed, they required that the QHCPs and physician be in the same physical location at the same time.
At PatientOne, we immediately recognized that this geographical restriction was not tenable. Both client feedback and our internal engagement data indicated that patients frequently reached out to their care team outside office hours and hospitals were not willing to hire full-time employees for additional coverage. Hence, we continued to build out our infrastructure to support RPM services for our clients in the near future. Our foresight was rewarded when it was announced in the 2020 updates that QHCPs providing RPM services can be in a different location than their supervising physician. According to an article from MedCity News, "[t]his allows for scalable, flexible RPM programs to be created that allow proactive management of patients at home." I couldn't agree more.
As previously stated, prior to the "general supervision" amendment, physician and clinical staff buy-in were difficult to obtain. Though the benefits of RPM were rarely in question, many voiced concerns that it would create even more work for an already inundated (and in many cases burned out) staff.
This is no longer a concern.
As specified by Nixon Law, "This [change to RPM] means that vendors of Remote Patient Monitoring may provide their customers with the option of a completely outsourced package of services, where clinical staff contracted or employed by the vendor may monitor patient data from an off-site location and escalate potential issues to be addressed by the patient's practice."
Yes, CMS devised a plan to offload the majority of additional work that RPM services could potentially generate. We recognized that even without CMS reimbursement, offering an outsourced package for remote monitoring was essential to improving patient outcomes. Always one step ahead, we launched RPMaaS.
If using PatientOne for your RPM needs, you now have the option to add our internal monitoring services to your plan. Our employed QHCPs can decrease your workload by monitoring your RPM patients, escalating critical issues to your internal staff, and providing consistent patient support.
RPMaaS is the future of patient care. This is the way that healthcare is supposed to be. Your patients deserve extra support, your team deserves extra support, and you deserve to spend more time with your patients. Let us help you learn more, and show you why RPMaaS is the right choice for 2020.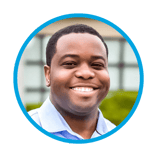 Dr. Dozie Ezerioha is the Chief Medical Informatics Officer at PatientOne. For almost a decade, he's tackled healthcare's most pressing real-world challenges by finding ways to fix the system to deliver better outcomes. Dozie's background in life sciences, engineering and medicine, and his passion for optimizing the patient healthcare experience, drives his patient-centric approach to building innovative health technology.